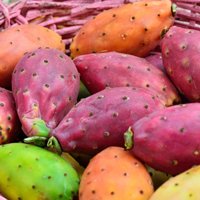 Prickly Pear Concentrate**
A very strong and distinctive prickly pear flavor with d-limonene acting as the carrier.
-Just a little note on Prickly Pear also know as "Cactus Pear", from what I've read, it is a cross between raspberry and melon in taste.
Ingredients: Natural & Artificial Components.
**Contains no other carrier.