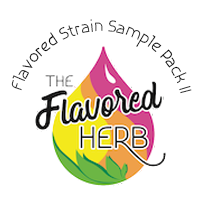 Flavored Strain Sample Pack II **
Flavored Strain Blends II



We have 29 new flavors that were announced on 5/21/18, and here is a way you can try them all!

These 'Flavored Terpene Blends' are composed of the characteristic terpenes along with the
addition of extra flavor elements that are not terpenes (esters etc.)
This pack does not come with a gift box, and to keep costs low we are using 1ml bottles with
number keyed labels.
You will find the individual blends in our "Flavored Terpene Blend" category.
1ml each of the following flavored terpene blends
We include a pack of droppers for use with these vials along with your shipment.
Apple Jack Type Flavored Terpenes
ATF Type Flavored Terpenes
Banana Kush Type Flavored Terpenes
Berry White Type Flavored Terpenes
Blue Cheese Type Flavored Terpenes
Bubblegum Type Flavored Terpenes
Cherry Pie Type Flavored Terpenes
Clementine Type Flavored Terpenes
Dog Walker Type Flavored Terpenes
DSD Cookie Type Flavored Terpenes
Goji Type Flavored Terpenes
Headband Type Flavored Terpenes
King Louis XIII Type Flavored Terpenes
Lemon Diesel Type Flavored Terpenes
Lime Sorbet Type Flavored Terpenes
Orange Cookies Type Flavored Terpenes
Platinum OG Type Flavored Terpenes
Skywalker OG Type Flavored Terpenes
Super Sour Diesel Type Flavored Terpenes
Strawnana Type Flavored Terpenes
Rainbow Drops Type Flavored Terpenes
Sugar Punch Type Flavored Terpenes
Sunset Sherbert Type Flavored Terpenes
Tahoe Type Flavored Terpenes
Tangie Type Flavored Terpenes
Trainwreck Type Flavored Terpenes
Watermelon OG Type Flavored Terpenes
Wedding Cake Type Flavored Terpenes
WIFI Type Flavored Terpenes