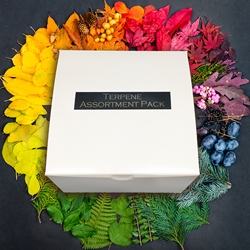 Assorted Terpene Sample Pack**
A 4 ml/4 gram assortment of 45 individual terpenes to get you started with your own Terpene blend creation, to test minor adjustments to existing products, or to train yourself to the different aromatic profiles of each product to help you better detect and identify Terpenes in other products. We've discounted this box to help you have a great introduction to the world of Terpenes and its various aspects.
See full description below for a list of products in the box.