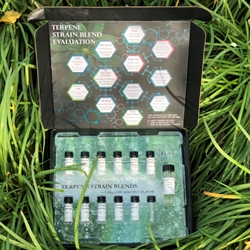 Strain Sample Pack #2**
Premium Strain Blend
These 'Premium Terpene Blends' are made of a 100% Natural composition of terpenes.
They have no added flavor compounds, so if you are looking for a more flavorful blend,
we also have our Flavored Terpene Strain Blend category.
Note: if air shipment is chosen at checkout, or if international, then we will be shipping this product
without the gift box as pictured. Click on product name for detailed explanation.
1ml each of the following terpene blends in a 4ml dropper vial.
We include a pack of droppers for use with these vials along with your shipment.
Our box also includes an empty 4ml vial plus one 15ml sample of an oil-soluble fruity flavor for flavor blending experimentation.
Gelato Terpenes
Gorilla Glue Terpenes
Granddaddy Purple Terpenes
Northern Lights Terpenes
Purple Punch Terpenes
SFV OG Terpenes
Skywalker OG Terpenes
Sunset Sherbet Terpenes
Tangie Terpenes
Wedding Cake Terpenes
ZkittleZ Terpenes