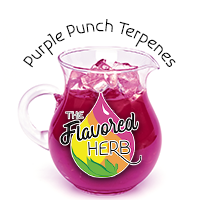 Purple Punch Terpenes**
Premium Strain Blend
This 'Premium Terpene Blend' is a 100% Natural composition of terpenes.
Flavor Profile:
Grape with earthy, smoky notes and a hint of pepper.
Promotes relaxation
Improves sleep
Stress relief
Eases minor pain

*These statements have not been evaluated by the FDA. This product is not intended to diagnose, treat, cure, or prevent any disease.